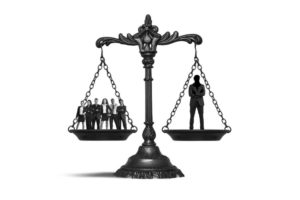 The United States of America is the land of the ridiculous, the absurd, and thus the dangerous. The pinnacle of its nadir is Trump—the reductio of the idea that a Constitution, no matter how apparently enlightened, is sufficient for greatness, a healthy society and world. While other times have been problematic and terrible in their own way, today we have the great fortune of being what we always wanted to be: special.
Today is a world of conflation, the inability to clearly distinguish between this and that. If the this and that were merely Captain D's and Long John Silvers, then it would be of little import. Alas, one of the fundamental conflations concerns people and their value. If I had the tiniest cut every time I heard the expression that everyone has a right to their opinion, then I would have bled out long ago. I suppose there's some basic thing there that's true, i.e., I don't have the right to somehow brainwash you or plant a chip in your brain to make you think something. But beyond that, the claim is empty of the content that people seem to think it holds. For they seem to think that it means that their opinion is of equal value with anyone and everyone else's. Aside from the understandable desire to feel special and at least as smart if not smarter than one's neighbor, I take it that what truly grounds this inanity is the idea that if one person tells another that their opinion is foolish, stupid, and/or dangerous, or if one has the fortitude to admit this to oneself, then their humanity has been denigrated. If I tell another that I know better than them, then I'm implying that they are somehow lesser as a person.
This is, of course, ridiculous on two fronts. With a little thought one can see that we can respect somebody's humanity, their personhood, their claims to the rights granted to persons in our society, while at the same time saying that they are not as good as someone else in some aspect, for example, their ability to reason clearly, their understanding of history, their understanding of politics, their understanding of human psychology, their understanding of themselves, etc. — That is not to say that there is no danger in judging others to be inferior in some aspect, for it is all too easy for that to slip into a condemnation of their humanity. So, we must be ever vigilant of that slippage. However, such possibilities of danger should not cause us to "err on the side of caution (stupidity)" and allow ridiculousness to run rampant, as we do.